CircleIn

Community Guidelines
CircleIn Code of Conduct and your pledge to be an upstanding member of the CircleIn family.
CircleIn

Community Guidelines
CircleIn Code of Conduct and your pledge to be an upstanding member of the CircleIn family.
Last Updated: September 9th, 2022
The mission of CircleIn is to make success more attainable, more common, and inclusive for all learners. Universities, state colleges and community colleges across the globe are partnering with CircleIn to provide a safe digital community for their students to connect, collaborate and study together. Remote or in-person, CircleIn is a space where hundreds of thousands of students log in daily to get motivated to study, get organized, share notes, make flashcards, find classmates to study with, and so much more.
We encourage collaborative learning, as it reflects the real world where you will collaborate with many other professionals, teammates, managers, etc. The tools CircleIn provides will help you achieve success in your future post-higher ed professions and beyond.
Please begin engaging with CircleIn once you make sure you have a solid understanding of your school's academic integrity policy. As a student and user of CircleIn, you're responsible for completing and submitting your own, original work. If you're referring to someone else's original work, you should correctly cite it. It is the responsibility of the student to ensure that all shared items are accurate and legitimate. Inaccurate and illegitimate content is defined within our "Requirements for Posting" guide below. Your school, your professors, and your peers are trusting you to be honest and authentic in your academic career.
CircleIn community partnership and engagement is governed by (1) your institution's governing policies, academic integrity policies community standards, and codes of conduct, and (2) the CircleIn "Principles of Community" which are grounded in maintaining an atmosphere of mutual respect, mutual understanding, and a learning environment where everyone's unique contributions and talents are allowed to thrive.
You must follow your school's academic integrity policy. Each college and university spells out what is expected of you. Please familiarize yourself with your school's policy and read through your school's policy in detail.
When you're using CircleIn, you're also bound by our Terms of Service and Privacy Policy. Be sure to know and follow all of our guidelines as you collaborate and learn from others in our community.
Reports are taken very seriously. Those who violate our guidelines could face the following actions depending on the severity or action, including but not limited to: removal of the reported post, a deduction of points, removal of your CircleIn account, or a referral to your school officials.
Contests and the Verification Process
We value integrity and encourage a spirit of competition and fun as you earn while you learn. With all of our contests, we have a system that verifies all posts and actions taken to win contests by students who enter and are eligible to win. This ensures fairness and confidence that rewards are given to hard-working students. Any violations of our guidelines or contest requirements will result in disqualification from rewards.
Cheating and Spamming on CircleIn
At CircleIn, we are always looking to improve the platform and the Community. From either student reports or our automated detection system, we have noticed a small number of students who have been attempting to cheat the points system. A few examples:
• Spamming random messages inside of Chat or Communities
• Creating fake Workflow tasks
Students are responsible for following our guidelines as we will be more strict in enforcing these guidelines.
Any student who is found to be intentionally spamming and/or abusing the system will be sent 1 warning and have points removed. Students who continue to spam or abuse the system after receiving a warning will face either one of the following disciplinary actions:
• Suspension of the account
• Permanent closure of the account
• Incident Report forwarded to School Administration
Accounts that have been permanently closed will have all points earned disqualified immediately.
Posts or content that are irrelevant, inappropriate, repetitive, unethical, personal and/or nonacademic will be flagged and marked as being in violation of our guidelines. You can find information regarding requirements for posting on CircleIn by clicking on the guide down below.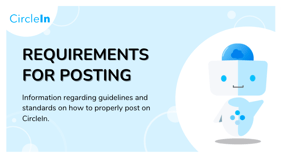 We're excited to have you here and can't wait to be a part of your academic and future career success!